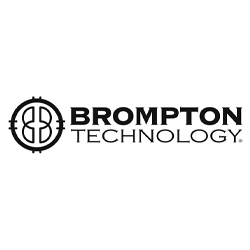 In July 2022, Connection Capital completed a £5.1m Growth Capital investment into Brompton Technology, a world-leading, Emmy Award-winning, technology company focused on high-end processing products for LED video walls, serving the Virtual Production and Live Events markets.
The Company
Brompton Technology is a UK-based technology company producing market-leading, high-end processing products for large scale LED video walls. The Company serves three core markets: Live Events; TV and Film Virtual Production; and Fine Pitch Fixed Installation (high-end advertising and presentation screens).
Its products are used on high-end productions in TV and Film, notably in the Disney+ series the Mandalorian, which was viewed as the pioneer in this area, as well as the latest Star Trek series and numerous others, and on the largest global live event tours for artists such as U2, Taylor Swift, Roger Waters, Depeche Mode. 
The Company's technology is of the highest quality and is used to generate a seamless image across multiple LED panels, making it one of only a handful of appropriate processing providers for TV and Film production and high-value live music tours, where the quality of the image is essential and the cost of failure significant.
In August 2023, Brompton was recognised by the Television Academy (US) with an Emmy Award for Outstanding Achievement in Engineering, Science & Technology. The Emmy was awarded for its Tessera SX40 LED video processor, which has played a crucial role in the widespread adoption of LED screens for virtual production and elevated the storytelling process through its impact on how television programs are created.
The market and investment rationale
There are positive underlying growth drivers in all three of Brompton's core markets.
The company has a c90% market share of the LED screen processing market for the TV and film industries. Commercial Due Diligence anticipates dramatic growth in this application. Investment in TV and film production is continually increasing as content providers compete for audience numbers.
With a return to previous levels of Live Events, and a wider consumer shift to experience-led activities, the Live Events revenue stream is expected to return to pre-Covid levels and continue to grow thereafter.
The high-end Fixed Installation market is still early in its development, but as consumers' expectations for high quality visual content increases, there is reason to believe there will be multiple further applications for Brompton's technology across a number of sectors.
Our clients were able to invest in this growth capital investment in multiples of £25,000.