We back experienced and ambitious management teams with flexible capital in order to help them realise their business growth plans. Alongside funding we bring experience, courage, insight and our network of contacts to help supercharge the performance and value of your business.
What are we looking for?
Our investment criteria are simple:
Profitable, UK based businesses with £1m+ EBITDA
Equity or debt requirement of £3m to £12m
A plan we can support
A team we like, trust and rate
Transaction types
Growth capital
Funding to facilitate organic or acquisitive growth. Examples include 23.5 Degrees, The Light Cinemas, Baxter's Place, Gorgeous Retail Group and Sleeperz Hotels.
Management buyouts
Financial backing for strong management teams to spin out of a corporate or take control of a private company. Examples include Wagamama, Virgin Wines, TeamSport, Impero, ACT, ESG, JCRA, Torquay Leisure Hotel, Clamason, Tempcover, Carter Accommodation, and Mode.
Equity release
Funding to allow active or passive shareholders to realise some or all of their equity value. This can be a straight release of capital e.g. MatOrtho, Virtua and Selection Services or with a more significant shareholder 'reshuffle' in a secondary MBO e.g. Impero and Cargostore.
These private equity and private debt transaction types are handy labels, but many investments have a combination of the above. Whatever the situation, we look to find a funding proposal that enables a solution to be found.
Working with management teams
We back you to develop and run your business, offering our support wherever we can.
We recognise that owner–managers may want to realise some element of their value to de-risk and we're comfortable with management shareholders realising a portion of the equity. As a guide, we look for the remaining stake to be of much greater potential value than that being sold, to make sure we are aligned with the key people in the business.
Once we have found a team, or the basis for a team we want to work with and who want to work with us, we do everything we can to support it to deliver the agreed goals. Key to this is open communication with the intention that we always know where we stand with each other.
The support we can provide includes very high quality non-exec's; access to your peers in our portfolio – with an active Whatsapp group; the years of experience of the wider Connection Capital team, which has pretty much seen everything before; and an infrastructure of corporate finance, banking, recruitment and other specialist firms to help sort problems, grow the company and deliver the ultimate exit.
A powerful network
Raising capital from our well-connected and experienced client base gives access to bonafide sector experts who have been there and done it and can share their commercial insight and knowledge. Imagine what you could teach yourself five or ten years from now, having changed the scale and successfully sold your business – that's what we have access to.
Through this network we can provide introductions and advice to the businesses we back, either in a Non-Executive Director or Chairman capacity, or in a more informal manner.
We also actively encourage co-operation between our portfolio companies. For example, when the Covid-19 pandemic hit in 2020, experiences were shared quickly and effectively. We believe this enabled both the Connection Capital team and our management teams to learn faster and implement best practice and innovative solutions across their businesses more quickly than others. This was vitally important in securing cash headroom, and therefore breathing space, so leadership teams could concentrate on managing their business in a critical period.
Working with advisors
We look to forge strong relationships with our advisory contacts who are a key source of investments for us.
Having invested over £430m since 2010 and without the restrictions of a traditional LP/GP fund structure, we can be flexible and creative on structuring. This could allow you to deliver a better deal to your clients, potentially one you didn't think was available in the UK market. Our private debt product is particularly relevant here – lower return than a private equity firm would accept, but willing to tread to a gearing level where traditional debt providers would not go.
Connection Capital in conversation with...
Our YouTube channel features a series of video interviews with CEOs and Non-Execs of past and present portfolio companies. We asked them about their growth journey, why they chose Connection Capital, and what advice they'd give management teams that are considering private equity.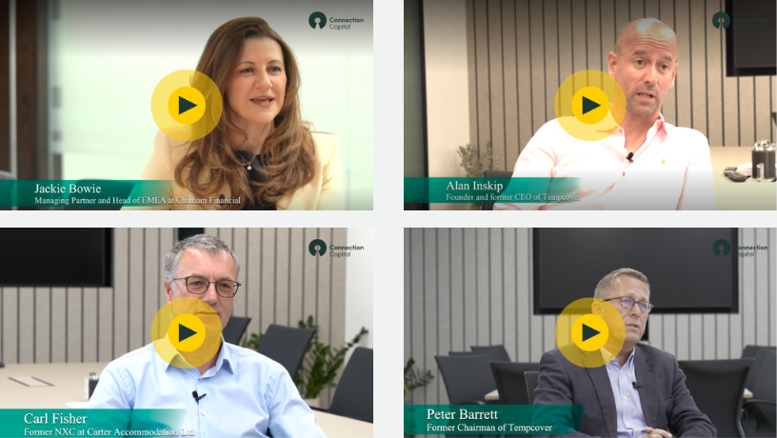 ---
"They understood what we were trying to achieve, we got on well and believed in their people. We loved their enthusiasm and passion for our business."
Jay Wright, CEO of Virgin Wines
FAQS
Before we complete an investment, we will run a thorough, insightful investigation and due diligence process to assess all aspects of your business and its potential for growth. Our goal is to provide you with useful information that you can apply going forward. Throughout the investment timeline you will only deal direct with Connection Capital's SME team. The people you meet on our first meeting will be the people you will deal with at the point of deal completion, throughout the investment period and later at the point of exit. We operate in an open and collaborative manner. We share all goals, ambitions and expected returns for each investment with our management teams.
Unlike a fund we have no fixed investment criteria. This means we can tailor a funding package to the requirements of an individual business. We find this flexibility is the best way to construct a deal that works optimally for all parties.
We have demonstrated our commitment to long term success with almost 50% of our portfolio having received follow on funding from us. Terms are matched to suit the company's needs not the requirements of rigid fund criteria.
We believe the most successful private equity backed management buyouts are about much more than the provision of capital. As well as funding we will help develop your business strategy, including the creation of a 100-day plan, so you and your team can hit the ground running on day one. We are also able to draw on our vast network of contacts to introduce non-executive directors and a chairman capable of adding huge value. We aim to develop a transparent and trusting relationship with you which can contribute to business success in the exciting, and often challenging, times ahead.