Invest directly in established, profitable, private UK companies with high-quality management teams and significant growth potential. Opportunities are sourced, diligenced and managed by our Direct Investment team.
Target net returns to our clients are 3x+ money invested, within three to six years.
Invest in private companies
Entrepreneurial, dynamic and employing close to 16 million people, SMEs are the lifeblood of the UK economy.
These companies have the potential to generate significant investment returns from the growth that an equity incentivised management can deliver, using the value creation techniques that private equity investors bring.
We enable clients to make direct investments in private companies, which are generating at least £1m EBITDA and are run by experienced management teams.  The investment may be to support ambitious growth, enable a management buyout or to replace the equity of an exiting shareholder.
Access to this asset class is not easily available to private investors, but through Connection Capital you can choose to invest in whichever of our private equity opportunities you wish, in multiples of £25,000. 
Our focus and investment goals
We target established, profitable companies that have already proven their business model and built a customer base. Most occupy the lower mid-market, roughly speaking this means companies with a value of £10m to £30m. This is an area which is often ignored by larger private equity investors and therefore offers better value. Our goal is to take these to a value of £20-50m (and sometimes more) to deliver the target return on investment of 3x plus.
We are sector agnostic and have invested across a wide range of UK businesses including e-commerce, services, leisure and manufacturing. Our client base means we can draw on the expertise, insight and experience of highly successful individuals help us appraise investments and take on an independent director role to help deliver strong growth.
Bernard Dale, Founder and Managing Partner at Connection Capital, explains how we select, structure and manage private equity and debt investments in established, profitable UK SMEs on behalf of our HNW private clients. Click the image to watch.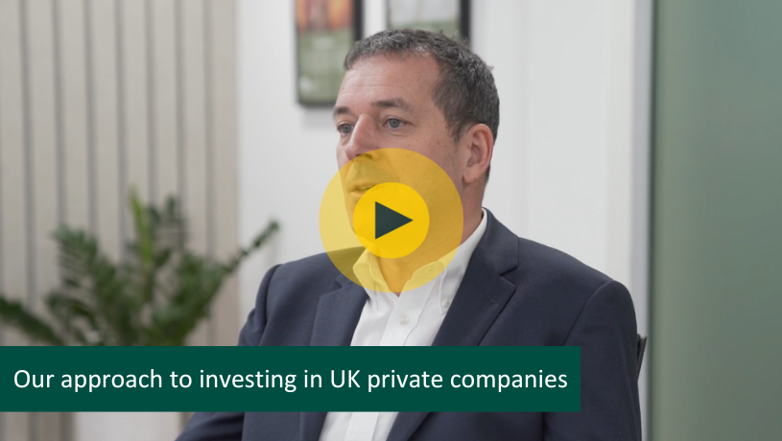 Our Direct Private Equity investment track record
We are the lead private equity investor in 25 UK SMEs. These companies range in size from 20 to 1,300 employees. We have a mix of both minority and majority stakes and an average investee company will double its EBITDA during our relationship.
We are also an active co-investor in deals which are led by other private equity firms. These companies are typically larger in scale and include Wagamama, Thought Machine and Essential Pharma. 
Our exits have come via a mix of trade sale, secondary MBO and AIM listing. 
Direct Private Equity investment structures
Our investment structures are designed to provide clients with what we view as the most appropriate balance of  maximising returns and protection from risks.
We use traditional, best practice investment structures, including secured loan notes, with robust legal documents. We undertake thorough due diligence on the financial, commercial, legal and management aspects of each investment, using specialist 3rd parties and our own client and contact base.
Sign up to view live private equity investment opportunities
---