• Over 2/3rds of HNWs now dedicate 10% or more of portfolios to alternative assets
• Upward trend shows no signs of slowing as 30% plan to increase weightings
• Only 1/3rd of HNWIs feel optimistic about the investment landscape for quoted equities
Private investors are continuing to increase the proportion of their portfolios that they allocate to alternative assets as they seek to enhance diversification and deliver outsize returns, reveals research* by Connection Capital, the specialist private client investment business.
More than two thirds (68%) of Connection Capital's high net worth (HNW) clients now dedicate upwards of 10% of their portfolios to alternative assets, such as private equity or private debt – up from 63% who did so in 2019 and just half who said the same in 2018** (see graph below).
The findings also suggest that demand for alternatives is likely to remain strong in the coming year. Almost a third of private investors (30%) said they plan to increase their exposure to alternative assets over the next 12 months.
The main motivations for investing in alternatives are to diversify portfolios so that they are not so heavily weighted to mainstream quoted equity markets (77% of respondents said so) and a desire to achieve the outsize returns that are possible with these types of investments (67% cited this as a key reason).
For example, according to the British Venture Capital Association (BVCA), five and ten year annual returns for private equity were 20.1% and 14.2% respectively, compared to 7.5% and 8.1% for the FTSE All-Share***.
Connection Capital's research also found that investors are far more confident about the investment landscape for private equity than they are for quoted equities, with 64% feeling optimistic versus just 34%.
Claire Madden, Managing Partner at Connection Capital, comments, "This upward trend has got tremendous momentum behind it."
"Appetite for alternative assets among private investors has been growing steadily for some time, echoing what's been happening among institutional investors. However, the economic impact of Covid-19 has really underlined the value of alternatives to counter the mix of volatility and over-valuation we are seeing in mainstream markets and create a better balance of risk and reward within private investor portfolios."
"There's a palpable sense among the private capital community that not only is greater diversification sensible and desirable, but that now is an opportune time to increase exposure to alternatives. Market conditions are creating some very attractive opportunities and post-downturn vintages are known to outperform."
Two-thirds (66%) of private investors say that private equity is the alternative strategy that they are most interested in, followed by special situations and distressed investing (54%). Deals that are opportunistic in nature, such as where the current conditions have had an impact on pricing, are seen as an attractive  characteristic for any new alternative investment prospect for 68% of investors.
Claire Madden adds, "The vast majority of our clients say they are excited about the investment potential that exists currently in alternative assets and believe there will be excellent deals available for those who are liquid and are able to take some risk. This is borne out by the strong levels of fundraising we are seeing from our investor base at the moment, where demand to participate in the opportunities we are presenting is extremely high."
Percentage of HNW investors who allocate 10%+ of their investment portfolios to alternative assets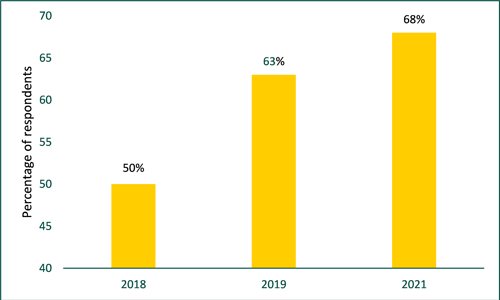 About Connection Capital
Connection Capital LLP is a Financial Conduct Authority authorised and regulated, specialist syndicator of investment funds from private professional investors into direct private equity, private debt and commercial property deals, as well as alternative asset funds. It currently has some £320 million of funds under management across a diverse portfolio.
Connection Capital provides a specialist managed service to help professional clients build up their own alternative asset portfolios. Private investors self-select which opportunities they want to take a stake in. Opportunities are identified and negotiated by Connection Capital, which also carries out all due diligence and manages the investment from completion through to exit, on its clients' behalf.
Press enquiries:
Claire Madden
Managing Partner
Connection Capital
020 3696 4010
07764 241476
Russell O'Connor
Headlines for Business 07760 282586
*Survey carried out among Connection Capital clients between 14 April and  30 April 2021. 203 out of around 1,200 clients took part. Connection Capital clients' total estimate net worth is over £11 billion.
**No data for 2020
***https://www.bvca.co.uk/Research/Industry-Performance
---