In December 2017 Connection Capital completed a £7.5m investment to back a management buy-out of Tempcover. The transaction saw the management team, led by CEO Alan Inskip, reinvesting alongside our clients.
In July 2022 we exited the investment via a sale to RVU, this generated a gross return materially in excess of 5x.
In conversation with Alan Inskip - Founder and former CEO of Tempcover
Alan Inskip, Founder and former CEO of portfolio company Tempcover, explains why Connection Capital was chosen for their MBO transaction, how value was added during the period of investment, and his advice for management teams considering private equity.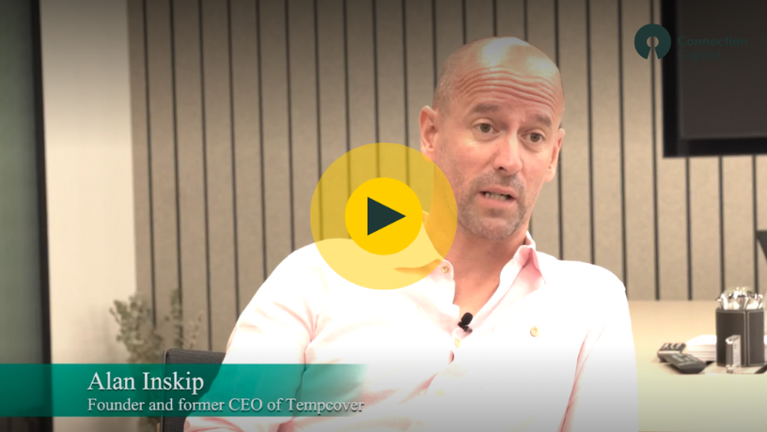 The company
Established in 2006, Tempcover is a market leading 'InsurTech' pioneer focused on the temporary and flexible insurance markets. In 2017 it won the Queen's Award for Enterprise in the Innovation category, and it has won numerous industry awards for its technology and customer service. Tempcover writes over 500,000 policies a year through best in class, in-house, proprietary systems.
Investment rationale
Tempcover was the UK market leader in temporary car and van insurance, with strong market share, bespoke in-house technology and an opportunity to grow into other insurance niches. It had a high quality CEO and, through our network, we were able to introduce both a Chairman, with direct experience in the insurance and fintech sectors, and a new CFO.
Finally we were attracted to the market growth for temporary insurance. This had increased c70% over the four years prior to Connection Capital's investment.
Progress during our investment
Connection Capital's support enabled the company to expand its offering in multiple areas. It has added new underwriters to its insurer panel and improved economics which reflect its strong loss ratios.
The company's technology evolved significantly through the launch of a new UX-driven website that vastly increases conversion, the launch of the Tempcover App, and the roll-out of new back-end CRM systems and data warehousing.
The management team has been bolstered with a new Chief Commercial Officer, Chief Data Officer, Pricing & Product Director and an internally promoted CTO.
We were also able to support the working capital needs of the business with a follow-on investment of £1.2m in April 2019. This was repaid in full via a further refinancing with Santander in January 2021.
Overall, since our clients' original investment, Tempcover more than doubled its EBITDA.
"Tempcover is a relentlessly innovative company, which is laser focused on the needs of its customers. It has bags of growth potential."
Miles Otway, Partner, Connection Capital
The 2017 MBO and growth investment enabled ownership of Tempcover to transfer from passive shareholders to the management team led by CEO and Founder, Alan Inskip, giving the Company the financial resources to fund development of its market leading technology and customer experience, and to enhance its team.
Over the course of our investment, the Company's EBITDA grew substantially and headcount more than doubled to 51 employees. Tempcover added multiple new underwriters to its insurer panel; improved economics to reflect its strong loss ratios; developed the Company's technology significantly through the launch of a new award-winning UX across its website and app that has vastly increased conversion; and rolled out new back-end CRM systems and data warehousing, allowing better and more effective use of the Company's data.
These developments laid the foundation for Tempcover's growth and provided multiple opportunities to the management team and RVU to further expand Tempcover in the coming years.
Alan Inskip, CEO at Tempcover said:
"Connection Capital has been a hugely supportive investor, backing us in the initial MBO and then providing us with further investment and support through thick and thin. We have made vast strides over the past four years and Tempcover continues to exceed growth expectations."
---
You might also be interested in