Carter sold to Modulaire Group, a multi-national accommodation hire group in a trade sale in January 2021. The exit returned 4x on our clients' MBO investment.
In conversation with Carl Fisher - former NXC at Carter Accommodation
Carl Fisher, former NXC at portfolio company Carter Accommodation, explains why Connection Capital was chosen for their MBO transaction, the value of private equity investing and the Company's growth. Carl also discusses the value a non-executive chair can bring to a business here.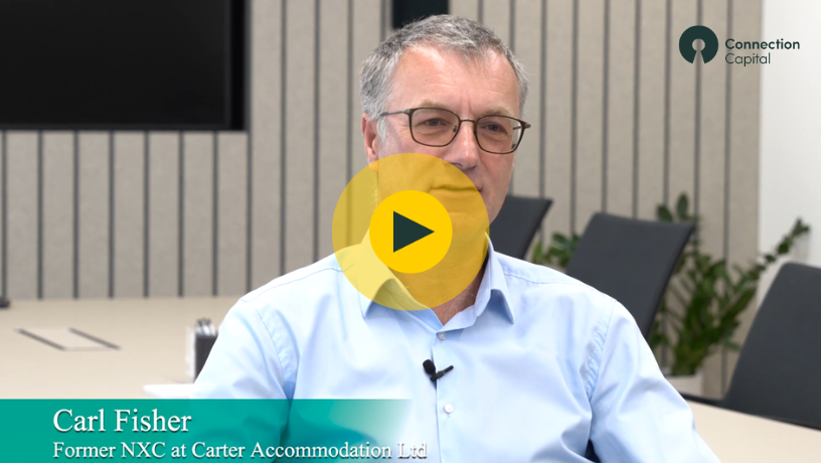 The company
Carter is a provider of high-quality portable accommodation for the UK market. It works with UK-based, bluechip infrastructure and construction organisations and supplies its products into a broad range of sectors with good growth drivers.
Carter has a very modern fleet, with the best eco-credentials and fire ratings. It delivers class-leading service which results in strong levels of repeat business.
In July 2015, we backed the management, led by CEO Darren Arnold, to buy the business from the founder. Within 12 months further investment was completed, followed by a second additional round in 2019 to accelerate the company beyond business plan growth.
Investment rationale
The investment proposition was to expand the company's fleet from c3000 units to 6,000+ of the newest, best quality, highest fire-rated and eco-friendly fleet in the UK, and to achieve significant growth, in which the company succeeded. A trade exit was anticipated, which again the company achieved.
Connection Capital's investment was structured without paid yield and with no capital repayments so that all cash generated, alongside PNC's debt facilities, could be used for investment in shareholder value-enhancing fleet scale.
The growth strategy
Growth at Carter is a function of delivering best-in-class service, with the right quality of fleet at an increasing scale, within a MBO financing structure. This is a tall order!
Connection Capital and PNC provided the capital to allow for growth. Management had the task of ensuring that the company made good on its service level and fleet quality promises to clients, whilst delivering the required return on fleet investment. This was a tough task, whilst the company was growing strongly and was deporting the cost of a management buy-out.
How did our relationship add value?
As part of the investment process we always introduce an experienced non-executive Chairman to our investee businesses. Carter had this in place already with Carl Fisher continuing in this role for Connection Capital and management.
A key task for the team was to deliver on revenue growth by securing hire revenue at suitable returns on capital.  In the early years this was readily achievable but the task became harder as the company increased in scale.
We encouraged and financed expansion. We helped develop focused KPIs, which brought discipline. This shaped the prioritising of fleet investment, updating of contract terms, and the identification of the customers and hire projects which would ultimately deliver the best shareholder return.
This 'data hungry' approach required investment in people, IT and training. It encouraged management to use multi-disciplinary teams when problem solving with the result of more co-operative work and less 'siloing'.
This was delivered by the management team but with us encouraging decisions to be made on facts, not hunches, and if necessary sacrificing 'sacred cows' on the altar of quality data.
Change does not happen overnight and we did have a year of static EBITDA on the growth journey. There were two additional board hires and investment in overheads had to be made to cater for the growth objectives. Without these, the long term success may not have been achieved.
As always, Connection Capital did not make this business a success, management did. That said, our attention to data (financial and other), our steady hand when issues had to be addressed, our mutual belief in the long term, and our patience when all did not go exactly to plan does make a difference. A key part of this is ensuring a common goal and trust exists between the CEO and ourselves.
Connection Capital gave us a strong foundation to grow our business – not just in the structure of our funding but the ideas and advice they contributed too.
Darren Arnold, CEO, Carter Accommodation
The exit
By mid-2020, Carter had grown from c£2.3m EBITDA on MBO to over £7m, with a significantly larger and high-quality fleet. The ground work was in place for the next phase of growth, which would require further investment.
Over the prior year we had received approaches from both larger private equity investors and trade buyers, who had observed Carter's success and wanted to be involved. We had opened dialogue with the best of these in order to whet their appetite, as we were confident that Carter's growth would continue. A trade sale and secondary MBO were both real options for us and management.
We decided to undertake a very limited marketing exercise and Modulaire, a strategic trade acquirer, was chosen as the preferred buyer. It had the attractive combination of the 'right' price and all the 'right' reasons for wanting to acquire, as well as the resource to undertake an assessment process.
The transaction concluded in January 2021, with Carter going to a good home, within the Modulaire Group, which will invest further and support the management to take Carter onto the next level.
---
You might also be interested in