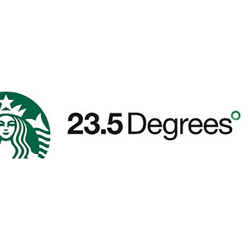 In September 2015 Connection Capital completed a £5.6m investment, providing growth capital to 23.5 Degrees, the UK's first Starbucks franchise. Alongside debt used to acquire 16 sites from Starbucks, our funding was used to support the 23.5 Degrees organic roll out plan. We provided a follow-on investment of £3.6m in August 2018 to support ongoing growth.
The Company
23.5 Degrees was the world's first Starbucks franchisee, launching its first store in 2012 in response to Starbucks' strategic decision to build its UK business through franchising. At the time of investment there were 13 stores in the group with Connection Capital's funding used to acquire a further 16 stores.
Investment rationale
It was clear to us that 23.5 Degrees had a high quality management team, with a strong franchise track record and specific Starbucks experience. The growth strategy was clearly defined, through an organic roll-out model with impressive ROI metrics, and was underpinned by a strong pipeline of new sites.
The UK coffee market had consistently shown at least 10% year on year growth in the 14 year period prior to Connection Capital's investment, with significant market headroom remaining, more than capable of accommodating management's expansion strategy.
Progress since investment
23.5 Degrees has more than tripled its EBITDA since our investment and has grown to a store count of 100 as at June 2023, over half of which are Drive Thru. On average, two new stores are added each month and 23.5 Degrees now has well over 2,000 employees.
Since the investment Connection Capital has supported the company's development in multiple areas such as:
Enhancing its management team, through the hiring of a new CFO, COO and Chairman
Providing investment and appraisal of systems, operations and processes, which are now capable of scaling alongside the business
Further investment
"They [Connection Capital] had really done their homework. From the first meeting there was a very positive and constructive outlook on our business and its prospects. They're also nice guys."
Mark Hepburn, MD of 23.5 Degrees
You might also be interested in